Claudia Janssen McDermott Schultz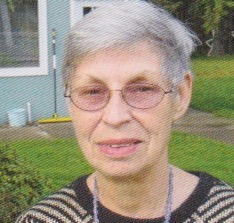 I was born on April 26th, 1935 at dawn in the San Mateo, California hospital to Alyce Barbara Armstrong Janssen. My father was Horace (Harvey) Lincoln Janssen of Danish descent from Colorado. He was a cowboy. My mother was from San Francisco, California and was of Irish and English descent. I'm not sure how they met or what their wedding date was. My mom worked at Burlingame Country Club as a P.B.X. (post box exchange) telephone operator. My father worked at the Burlingame Fire Department as a volunteer fireman at the time of meeting my mother and worked his way up to Fire Chief, a paid position. I used to go and visit the firehouse when I was a child to see what it was like. I remember seeing the old firehouse, but when I went back later on, it was gone and there was a new firehouse. My Dad loved spoiling me. I loved him anyway. He died when I was 9 years old and it took many years to get over it.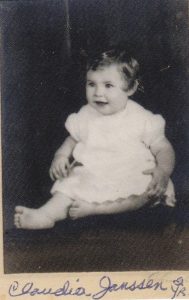 My mother met some people called Bahá'ís. They kept inviting her to their public meetings. (This was in the late forties.) She kept being skeptical, having been raised Catholic and me too. She went to their meetings and decided to do research and prove these Bahá'ís wrong. They said Christ had returned and his name was Baha'u'llah which means the Glory of God. After much research and study, she found out that they were correct, and she became a Bahá'í. I was the youngest child of three and went with her every where. I was raised Catholic and had been baptized. I also had my Christian confirmation at 14 years old.
At one of the Bahá'í meetings the first thing I asked the Bahá'í was, "Okay explain the trinity to me." I always had a problem with the concept of the three-in-one God: God the father, God the son, and God the Holy Ghost. And wondered how that fits with their statement that there was only one God. The Baha'is explained to me that the concept means there is one God and one Divine messenger (Christ Jesus). Even though Jesus was a man and a descendent from Abraham, He was picked by God to reflect God's teachings and qualities to show mankind how God wants us to be and what to learn. Then Baha'u'llah came at the prophetic time to remind us of Christ's teachings and give us concepts that work for now, like unity and peace. I liked that answer.
It's taken me many years to understand Baha'u'llah's teachings but it's been exciting to me to realize I'm actually taking part with the Bahá'ís of the World to fulfill prophecy from the Bible. I get to see it all happening. My mother went with the Bahá'í's from California to Morocco, to the Canary Islands and to Zurich, Switzerland during the 10-year crusade from 1953-1963.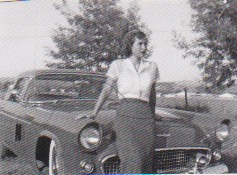 I went to public school in Santa Rosa, California, and graduated from Santa Rosa High School in 1953. This location was very close to a wonderful school called Geyserville Bahá'í School, just north of Santa Rosa. This place, when I look back, was my Shangri-La. The Baha'is would have Unity Picnics there every year in June, where Baha'is and Baha'i pioneers would come from many cities and states to attend this special weekend. There were also Native American Baha'is and pioneers from the ten-year crusade that had recently returned home.
Baha'is from many cultures, nationalities, colors, young and old, and Persians that were attending Stanford University came to Geyserville. Some of these people became famous. I remember Shadun and Firuz Kazemzadeh. Firuz later became Chairman of the National Spiritual Assembly of the United States. I was so amazed to see all these people from different cultures getting along so well. Other names come to me such as Elsie Austin and the Allen family. Dwight Allen (who also became a member of the National Assembly) was there, and there were two I went to school with: Kent and Dale.
Two weeks after I graduated from high school, I got married to William (Bill) McDermott. My mother took off for Spanish Morocco. Then Bill and I lived together in the apartment my mom and I had. I went to work at the Pacific Telephone and Telegraph Company in Santa Rosa, and Bill worked for a gas station. Gas was fifty-nine cents a gallon!
Five years later, after my first baby was born, Gina Roseanne, Bill, and I moved to Anchorage Alaska. We drove up the Alcan Highway before it had been paved. We rented a room from some people about one block away from the Anchorage Bahá'í Center. It was a log house and we attended the gatherings there. Bill met the Bahá'í men and found out that they liked to hunt and fish, Bill's favorite thing to do. Not long after that, because they talked his language, so to speak, he became a Bahá'í. I mentioned to him it also had to be because he believed in Baha'u'llah!
John Kolstoe and others (I wish I could remember more names) were on the first Bahá'í Assembly that I was ever on in Anchorage. Bill and I moved to Homer, Alaska after my second child, Joe, was born. Bonny was also born in Anchorage. She moved back to Homer along with her daughter Liviya in 2018. I now have a grandson, Leonard. They are all Bahá'ís.
Bill and I were on the first Baha'i Assembly in Homer, Alaska. We lived nine miles out of Homer on East Hill road on a homestead. We raised our children there: Bonny and Michael. They were fun to raise.
In 1963, my mom was going to go the first worldwide Bahá'í Congress, held in London, England. A friend of Mother's called me on the phone and invited me to go with her to the London Congress. She said she would pay for it. I just about fell off the chair! I couldn't believe it. "Did I want to go?" she asked me. I had been wishing with all my heart to be able to go. My husband had to work at that time, and there was no way we could afford it.
So, I went with my mom's friend Polly Campbell to attend and see thousands of Bahá'ís from all over the world and be introduced to the first ever elected Universal House of Justice. It was phenomenal! Twenty years later on I had a chance to attend the second Baha'i World Congress held in New York, which was also phenomenal!
Besides Geyserville, another school I've had a chance in my life to attend and help was at Brighton Creek in Washington State. I got to work in the kitchen, clean the cabins the Bahá'í guests stayed in and the big main hall. Thinking about Baha'i schools reminds me of a huge, ancient redwood tree at Geyserville that was so tall and thick you couldn't rap your arms around it. Surrounding the tree were tables and benches at the Unity Picnic so that people from all over could sit and eat and visit.
Brighton Creek had a kitchen, dining hall and a huge building to hold events like an auditorium and stage. I lived there in a cabin after my husband Bill passed away and loved every minute of it. I got to attend and help with many events there. When I was at Brighton Creek, my favorite people who helped run the place were Carol and Bill Spell and Marian Johnson. Many others who were Bahá'ís and some friends of Bahá'í's helped also.
I began feeling older in the 70's and moved to the Seven C's Guest Ranch in Rainier, Washington. I helped a ninety-year-old lady named Evelyn and cleaned her rooms and the ones she rented in this bed and breakfast. I also helped in the garden. We held a Bahá'í Feast there one time and a Bahá'í wedding for two people that later had a café in a nearby town.
After Mrs. Evelyn Cissna passed away, I rented an apartment in Yelm in a building called the Rainier Apartments. I met many people who lived there and tried very hard to hold an inter-religious devotional meeting once a month on Mondays and sometimes Tuesdays.
Then I got remarried to Clarence (Dutch) Schultz. My name changed to Claudia M Schultz. To keep unity, I attend the Faith Lutheran Church with Dutch, and sometimes he goes to our Bahá'í events. Clarence is 97 at this writing and is an amazing person. Marriage has been an interesting adventure.
I was taking an art class later when I was in Yelm at the Lacey Senior Center. I started my art career at Santa Rosa California Jr. College. The art teacher wanted his students to learn how to copy line for line, color for color. I learned my colors, the color wheel, and what colors went well with others. We also learned how to paint a model standing at the head of the class and where all the structure of the body parts were in the skeleton. It took years of practice. I loved drawing or painting trees and mountains and peoples faces, and their forms fascinated me. My sister, Barbara, learned how to use pastels in high school and painted beautiful pictures, so I guess it's in my blood. My mom painted and drew pictures also. My mother in law, Bill's mother was also an artist. Anyway, I had also taken an art course in Homer Alaska and in Lacey at the Lacey Senior Center. The art teacher in Lacey insisted I paint original pictures, not copies like taking a photograph. I decided I wanted to combine the concepts and work the two ideas together, besides doing portraits. I like working with mixed media like oils, water-color pencils, acrylics and oil pastels. The last art teacher I had would give us projects or ideas to paint. I was grateful and surprised that he liked what I was doing, and that he also made suggestions on how I could improve what I was doing. Here are some samples of my artwork: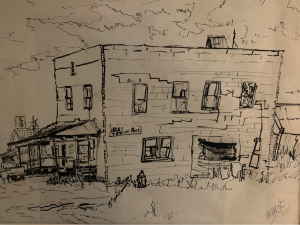 Inlet Trading Post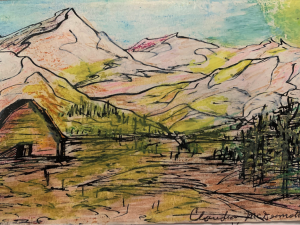 Let the Sun Shine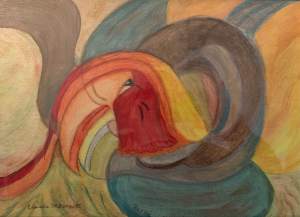 Swirly Bird