A new addition to our website will be a series of short biographical articles on local Bahá'is
Thanh Truong – artist, poet, author, and musician
Heroically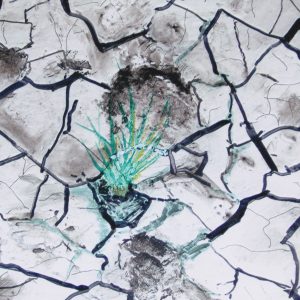 Look!
amid the cracked, baked earth
under the scorching sun
who can believe
a green sprout
heroically springs!
Thanh
* "All we need now is LOVE".
Thanh writes about how he became a Bahá'i and why it is important to his life " Many years ago in the early nineties, when I was in the Philippines Refugee Camp, I had Ms. Aun, as my English teacher, she was dedicated a Baha'i and had weekends sessions about the Faith. I was one of the attendees and impressed by her devotion and about the ideals of the Faith.
When I arrived in Lacey in February 1992, the first one who came to visit me was a Baha'i in Lacey named Renee Stout. Later, I happened to know Charlotte Cureton and later, Leo & Joyce. Finally, I then belong to Lacey Assembly hosted by Lonnie and Dan Locke.  I've  admired and impressed by the Race Unity and Mankind-Is-One Ideal of the Faith and the harmonious way of life of the Baha'is, since.
My "Silkworm of Poetry" is a collection of my 'world view' about different people and different subjects and events. I consider I am 'silkworm' who has consumed much of life-nutrition, now I need to give back something to life.  I hope with the silk-material that I gave out, in some way, some how, will be a piece in making of the ONE big gorgeous silk-cloth of life."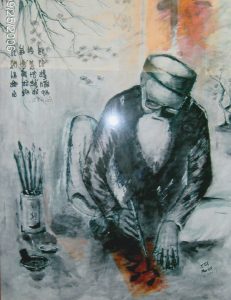 The Old Calligraphist
Every time Lunar New Year comes
when the blossoms bloom
people again see the old calligraphist
displays red papers written in black ink
parallels of stylish word characters
on the busy street pavements
of passers-by
ACCEPT OUR APOLOGY
to KIKI and her generation
You, our younger generation
accept our apology
and forgive us
for leaving you with an ugly heritage,
full of environmental destruction.
We down forests, burn coal
to produce more pollution,
to the point that the
land becomes dry,
sea becomes hurricanes,
air becomes soot.
The greed and craziness
of a few put suffering on so many.
A few countries become too rich;
so many become too poor.
A few individuals become billionaires,
billions of others become empty-handed.
The eyes become blind
the minds become thickened
the on-going-destruction is considered a hoax!
So wicked to the point that
the young generation has to stand up,
to condemn
to ask for immediate action
to save humanity.
Younger generations:
accept our apology
and forgive us.
We feel very ashamed
we feel very guilty
Unfortunately
there are a few who don't care,
even if they are the responsible ones
But let us not care
let us:
" fight for the right
without question of pause"
We all are with you
oh beloved generations.
Together we rise!
Together we demand!
Oct 03'19