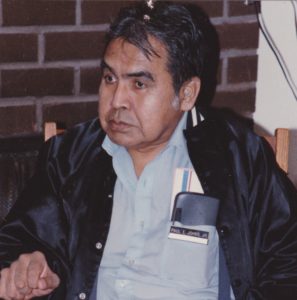 Paul Johns – Tlingit Baha'i
Paul Johns was born in 1930 in Klukwan, Alaska, a small Tlingit Native Village 22 miles north of Haines, Alaska. Not much is known about his early life, except that he was raised by Catholic sisters somewhere else outside of Klukwan, perhaps in Juneau, from an early age until around age 18 or 19. When he was released from the nunnery, he apparently spent the next 25 years in Seattle and in Anchorage. He did not talk much about those years from about 1950 to 1976, except to say he battled alcoholism for many of those years. He had attended some type of training in the lower 48 as a nurse or nurse's aide in the 1960s and worked sporadically. In 1976, he was with a drinking buddy in Anchorage, who threw a Baha'i prayer book at him, because he was always talking about spiritual matters. After reading the prayers, he contacted the Baha'is in Anchorage and soon enrolled in the Faith.   At that time, Baha'is were travelling to remote Native and Inuit villages to teach the Faith and Paul went on some of those trips, staying in tents with other travel teachers. In 1978, he moved to Homer, Alaska, where I was living and stay with me for a few days in my one-room cabin, before finding his own place. He had been developing rheumatoid arthritis, but it seem to go into remission while in Homer. He got a job as a waiter or dishwasher in a local restaurant. He was always quite friendly to everyone, always finding ways to joke around.
In late 1979, I moved to Yakima, Washington. A year or two later, I visited Homer, Alaska, and Paul expressed to desire to move to Washington state. So he came back with me, and settled in the Bellingham area, finding a small house in the tiny town of Marrieta, near the Lummi Indian reservation. He got a job as a nurse's aid in a local convalescent facility and was quite active in the Baha'i Faith activities in the area. Around 1981, he came to Yakima and stayed with me briefly, but then moved to Seattle.   He was apparently not in contact with Baha'is in the area for awhile, but then met John Gubatayao who took him under his wing, got him into low-income housing and would take him to various Baha'i events and Pow-wows in Seattle and other places. By this time, his rheumatoid arthritis had flared up and he was helped getting on disability through Social Security. He was an active member of the "Trail of Light" teaching team in those years in Seattle.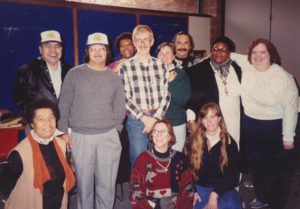 Paul with friends
Around 1992, Paul decided he wanted to move to Olympia. We were able to get him into low-income housing at the old Saint Peters Hospital building which had been converted to apartments, now called Capitol House Apartments. Paul lived there for the next 8 years, as rheumatoid arthritis ravaged his body, making it more and more difficult for him to move and walk. In spite of his pain and disability, he continued to be quite active in the Faith and in attending pow-wows which he loved so much. Finally, the disease was too much for him to live independently, and his vision was also declining. He moved to a convalescent home, developed infections in his legs so severe that both legs were amputated. He was moved to Panorama City Convalescent where he spent his remaining years until his death in 2000 at age 70. He was buried at the Nisqually Indian Reservation cemetery.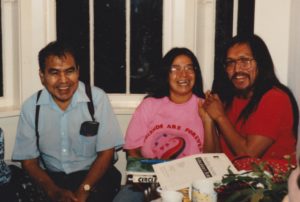 Friendly Supper Club late 1980s
Paul had a difficult life in many ways. Apparently abandoned by his parents as a child, he was subjected to some fairly strict, if not harsh treatment by Catholic sisters in Southeast Alaska. He indicated he had a learning disability, but he was a quiet and gentle man who complained that he knew little about his Tlingit culture since he grew up away from the Tlingit community.   From the time the Bahai prayer book was thrown at him by his drinking buddy to his death he was a committed Baha'i who sometimes felt misunderstood by white Baha'is.   Although he never married, he was very respectful, kind and gentle in his manners towards women, even taking in an alcoholic woman for a time in his house in Bellingham.   He wanted very much to promote the Faith among Native-American people and participated in many events with that aim.  In 1980, he and I traveled to Saskatchewan Canada and spent about two weeks doing outreach to recently enrolled Indigenous people on several Reserves. He was spiritual in his nature, but grounded in reality of this physical life. I recall visiting one of those Reserves with him and we were standing near a lake on a cool, cloudy day when a Raven showed up and seemed to be interested in us. I wondered out loud what great spiritual message that Raven was trying to communicate to us, and Paul's simple straightforward answer was that it was just telling us it was going to rain soon.
Dan Locke