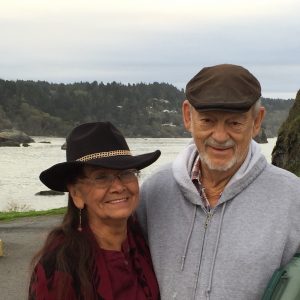 Joyce and Leo Baldwin
Leo Baldwin, a journalism graduate at Humboldt State University in California, pioneered to Alaska at the age of 22 for the Baha'I Faith. He met and married Joyce, a Tsimshian Indian of Alaska, and they had four children. In time he became well acquainted with the unique status of American Indians. He was formally adopted into a Tlingit Clan and received the name of Ahkah. His lifelong efforts to teach and promote unity among the tribes have led him to write some of the story of American Indians today. Indian Spirit Man: The Incredible Vision of a Traditional Tribal Chief is his debut novel.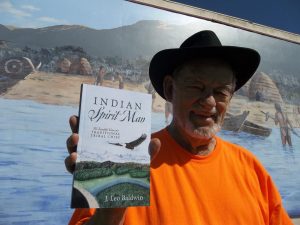 Since 1956 Joyce has been searching for the answer to Ábdu'l-Bahá's prophetic exhortation to "attach great importance to the indigenous population of America" because "should they be educated and guided, there can be no doubt that they will become so illumined as to enlighten the whole world" (qtd. In Shoghi Effendi, Citadel). With each attempt to discover her true identity, Joyce is led closer to the answer of her lifelong search to find the way to that illumined world. In pursuit of this goal, Joyce has educated herself about the culture and stories of her clan and Tsimshian tribe to discover those beliefs that will act as a bridge of understanding between herself and her family and tribal members. Grandmothers, great aunts, and all their friends have enriched Joyce's learning with many gems of understanding and have brought her ever closer to finding the answers she seeks. She graduated from Antioch University of Yellow Springs, Ohio in 1980–it was a new satellite program on the Muckleshoot Indian Reservation, for which she was the executive's secretary. She was their first graduate, and an example to women on the Res that it is possible. Antioch, historically, was the first University in the U.S. to admit and graduate a woman.
Her story of this journey, can be found in the Journal of Baha'i Studies Fall 2016 Walking the Spiritual Path with Both Feet Planted Firmly on the Ground .