The upcoming completion of a Bahá'í Temple in South America will mark an important milestone in the History of the Bahá'í Faith. On completion of this edifice, continental Bahá'í Houses of worship will have been located on the five continents of the Earth together with temples marking three other geographically important regions: Panama, Australia and – representing the important Island cultures – Western Samoa.
This Continental House of Worship, located on the outskirts of Santiago, Chile:
" …uses light for its spiritual and design inspiration. Its billowing, structurally robust form won a two-phase international competition requesting a nine-sided, domed structure with nine entries—a requirement for the design of Bahá'í Temples. This is the final continental Temple to be built. Designed through physical models in conjunction with state-of-the-art digital technology, the Temple combines advanced engineering solutions, cutting-edge material innovation, and computerized fabrication methods to create a light-filled space for prayer and meditation at once monumental and intimate."

(source: Chile House of Worship Architect Website)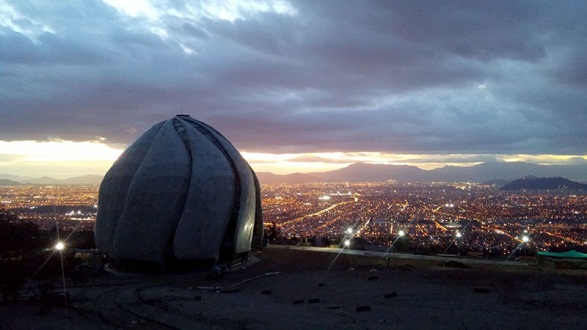 Where the Bahá'í Houses of Worship are located
The image below shows the location of the Continental Bahá'í Temples including the soon-to-be completed House of Worship in Chile: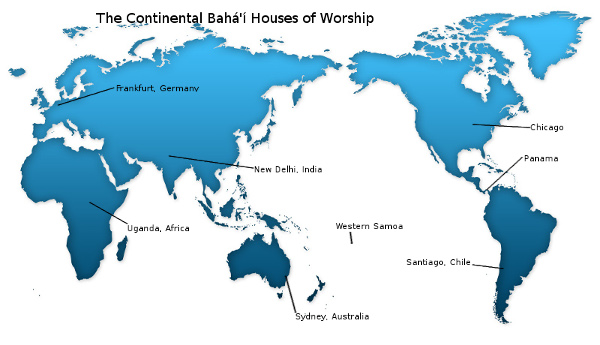 Significance of the nine sides
Like the other Bahá'í Temples throughout the world, the new House of Worship in Chile has nine sides and nine entrances. The number nine is significant because nine is the highest digit; hence it symbolizes culminations, perfections, comprehensiveness and unity.
Welcoming architecture
Bahá'í Houses of Worship are open to people of all Faiths – to all who worship the One True God. Ever since earliest times persons familiar with this important aspect of the Bahá'í teachings have tended to mentally associate the many doors of the Temples with the peoples from the world's many cultures, religions and outlooks whose diverse and seemingly irreconcilable backgrounds have experienced the powerful uniting force of the Divine Message for this day and age.
Gathering together for Prayer
One of the important fundamental Bahá'í teachings is the principle that Religion must be reasonable and that dogmas must be abandoned. And so the Bahá'í teachings maintain that in the building of these Houses of Worship there is a great wisdom:
"The wisdom in raising up such buildings is that at a given hour, the people should know it is time to meet, and all should gather together, and, harmoniously attuned one to another, engage in prayer; with the result that out of this coming together, unity and affection shall grow and flourish in the human heart."

(–Abdu'l-Baha -from the Bahá'í writings)

"Among the institutes of the Holy Books is that of the foundation of places of worship. That is to say, an edifice or temple is to be built in order that humanity might find a place of meeting, and this is to be conducive to unity and fellowship among them. The real temple is the very Word of God; for to it all humanity must turn, and it is the center of unity for all mankind. It is the collective center, the cause of accord and communion of hearts, the sign of the solidarity of the human race, the source of eternal life. Temples are the symbols of the divine uniting force so that when the people gather there in the House of God they may recall the fact that the law has been revealed for them and that the law is to unite them…."

(–Abdu'l-Baha -from the Bahá'í writings)

"Every city in which, during the days of the Manifestation, a temple was raised up, hath created security and constancy and peace, for such buildings were given over to the perpetual glorification of God, and only in the remembrance of God can the heart find rest."

(–Abdu'l-Baha -from the Bahá'í writings)
Views of the Temple and construction details:
Images: copyright©Bahá'í International Community(Bahá'í World News Service), Gonzalo Sepulveda(Google Earth),
©2016:Asamblea Espiritual Nacional de los Bahá'ís de Chile
For more information about the Chile House of Worship:
New website launched for Chile House of Worship
Exhibition featuring Chile House of Worship
Article in "Azure" – Magazine of Architecture and Design